Some links in this post may or may not be affiliate links. If you click on an affiliate link I will earn a commission which supports this site.
---
This shop has been compensated by Collective Bias, Inc. and its advertiser. Product was provided by the client for review; however, all opinions are mine alone. #WorldsSmartestToothbrush #PhilipsSonicare #OprahsFavoriteThings #CollectiveBias
---
Traveling for the holidays? Traveling is always a part of our holiday season so my family and I have amassed a few tips and tricks over the years. The hustle of the holiday season can be stressful, so things can get lost, forgotten or left behind, so we have a few smart travel tips for the holiday season to help it all go a little smoother.
Smart Travel Tips for the Holiday Season
When you have kids, family, pets etc it's inevitable that things get forgotten and left behind. Here are a few simple tips to help make your holiday travel easier:
List, Lists, Lists! I have a list for everyone in my family, even the dog. I post them on the fridge and they are responsible for checking it off. Itemize everything everyone will need and make it detailed!!! I learn the hard way that adding clothes to the list meant forgotten underwear and socks.
Bring non-electronic activities. Laptops, tablets and phones can run out of batteries. Most airports have charging stations but you can't always use them. They are either broken or being used by other travelers. I usually have each kid (and my husband) pack a book, a pad of paper or notebook in their carryon. We have also been known to bring those little travel games to pass the time. They work great in the car.
Invest in comfortable clothes. Everyone is always in a better mood when they are comfortable. When my kids were little and we were traveling on the plane I put them in their footie pajamas. It was familiar and I never had to worry if they were cold. I usually make sure I am in layers so I can remove articles of clothing as needed.
Buy great travel gear. Invest in a few much-needed travel gear items. Traveling in the car can get tedious even with the best movies downloaded on the tablet or game to play. My family travels best when they each have their own travel pillow! They are an inexpensive item to purchase and can make all the difference! Seat trays for the car, a organizer for the seats to have all you need within reach (like tissues, napkins, device cords and coloring items) and a multi-usb charging port for the car will make the hours fly by! Most of these work awesome for the plane too.
Pack snacks. If you are traveling by plane you can't bring drinks but there is no rule against food! Whether you are traveling by plane, train or automobile ALWAYS have food ready. Buying food on the road or in the airport is budget busting. The markups are outrageous. Keep the hangry away by having your favorite food available. Pack sandwiches, crackers, cheese and pretzels for fast meals. I learned the hard way one trip – a hungry traveling family is NOT FUN.
Not traveling? If you are hosting guests this year make a guest basket!
We use cute gift boxes we find at the store and leave it in our guest's room. Our Just In Case box has come in handy over the years. Add items that might get lost or left behind in traveling.
I don't know about you, but I like using my own things when I travel. I add things to my guest box that I would want if I was traveling. It just adds that little bit of comfort.
Just In Case Box
Headphones
Pill Box
Washcloth
Hat and gloves
Coffee mug (I like using these on planes, I have had too many drinks spilled on me)
Lip balm
Toothbrush and toothpaste
Disposable comb
Device charger (you can get these at the register in most stores for cheap)
Piggy phone stand (these are just cute!)
Travel case to put it all in
My husband is FOREVER forgetting his toothbrush when we travel anywhere. I don't share so sometimes he's out of luck and running to the store to find one. Who wants to do that during the holidays!? You want to spend time with friends and family.
Our family decided to gift him a toothbrush this year that he won't ever forget. It even has an app on his phone to tell him how well he is brushing! I saw the Philips Sonicare DiamondClean Smart 9500 Rechargeable Toothbrush was on Oprah's Favorite Things 2017 List so I knew it had to be awesome. I have purchased some of the things on her list in the past and the woman is never wrong! This time, I tried a different Sonicare DiamondClean for myself.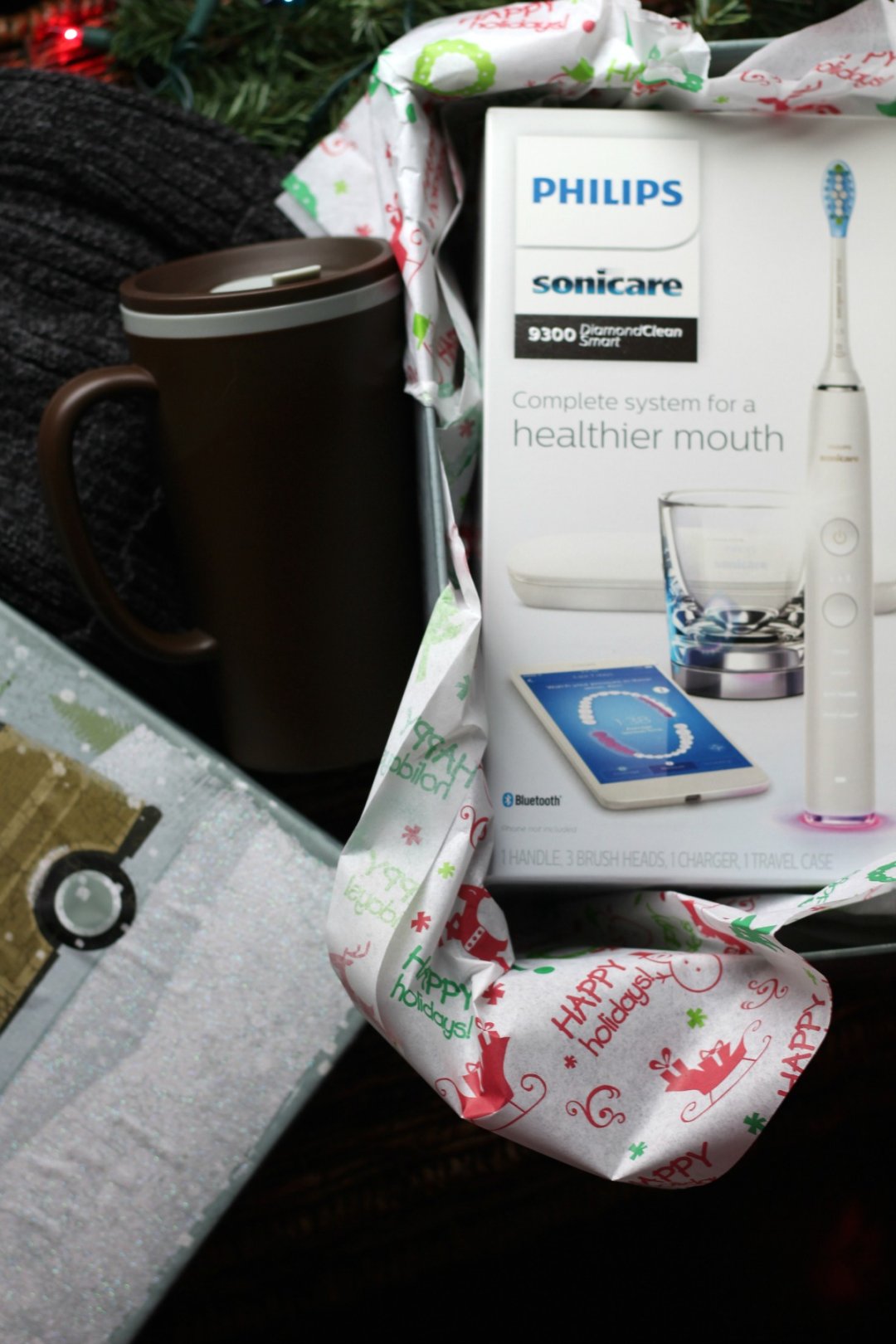 Click the picture above to buy one of your own!
I am super amazed at how fantastic this toothbrush is and I am definitely going to be asking for one for my birthday.
DiamondClean Smart Toothbrush's Awesome Features: 
This is Philips' best ever toothbrush for complete oral care – teeth, gums and tongue! The DiamondClean Smart Toothbrush sensors and handy phone app help you perfect your brushing technique, and get a complete clean. I love the premium brush heads and the 4 modes and 3 intensities let you focus on each aspect of your oral health. When you use the Smart brush heads they automatically select optimal mode and intensity. This is something that my husband and I struggle with, the dentist is always scolding us.
When you use the toothbrush automatically adjusts to the optimal mode and intensity level! My husband is always so busy and has so many things on his mind I am so glad we got this for him.
You can also connect with Sonicare app to get real-time feedback and personalized coaching.
Where to buy:
We grabbed the Philips Sonicare DiamondClean Smart Electric Toothbrush on Amazon. It was so easy. You just choose the model you want, the color, whether you want a protection plan (highly recommended) and add to your cart.
Give the gift of superior sonic technology like we did! Your friends and family will LOVE the Philips Sonicare DiamondClean Smart 9300 Rechargeable Toothbrush.
Don't forget to follow Philips Sonicare on Facebook, Instagram, Twitter, Pinterest, Youtube to learn more! You can follow Oprah's Magazine on Instagram to see what's on her Oprah's Favorite Things 2017 List this year!
---